Clarity about the electrosmog load at your school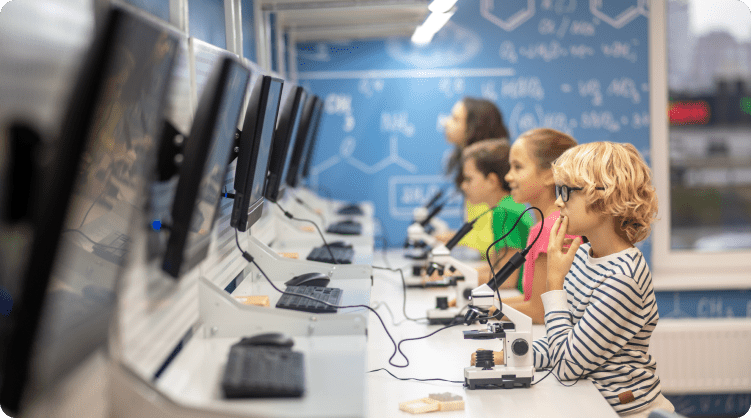 Is the well-being of your students a top priority for you as a forward-looking school? Besides the networks of the mobile phone operators, every school now has its own network. This allows the pupils to communicate easily via WLAN and to learn in a more up-to-date way with mobile device. Are you thinking of the electromagnetic radiation associated with this?
The exposure to electromagnetic radiation increases
A professional network requires sufficient bandwidth to manage large amounts of data. Several small transmitting antennas such as repeaters or access points assure that the network runs without problems even with many users. Often not considered, or only marginally regarded, is the fact that pupils are progressively exposed to radiation from wireless networks and mobile phone antennas. Today, the intensive use of mobile phones, tablets and personal computers in class as working tools is the order of the day. This causes uncertainties and fears. Especially parents are unsure whether the radiation is harmful, especially for children.
An NIR immission measurement provides clarity
Enkom, as an experienced company in the field of non-ionising radiation (NIR), has become familiar with this specific topic and has carried out several NIR immission measurements at schools. Independent of the network operators, we create an objective and neutral data basis for you.
The advantages of NIR immission measurement in your school
The measurement shows whether the legally specified limit values are being complied with.
Our specialists will explain to you which optimisations can be made so that the radiation exposure is lower.
The different measuring concepts
NIS broadband measurement
The NIS broadband measurement records and evaluates the actual state of radiation exposure in the frequency range 400 MHz to 2600 MHz. All mobile radio services such as GSM, UMTS and LTE as well as WLAN and DECT transmitters are determined and evaluated.
NIS WLAN measurement
Basically, the influence of the mobile phone antenna is not the problem of the school – a WLAN operated by the school, however, is. With the NIS WLAN measurement, a specific measurement of the school's WLAN network will be carried out and the results show how high the load is in which areas or rooms.
NIR Scenario Measurement
By means of the scenario measurement, it is determined how highly polluted places are during different scenarios. For example, on the one hand, it is possible to determine how highly polluted a room is when there is no one in the room. On the other hand, it shows how the values change when the students process large amounts of data during lessons.