Individual communication with Location Based Services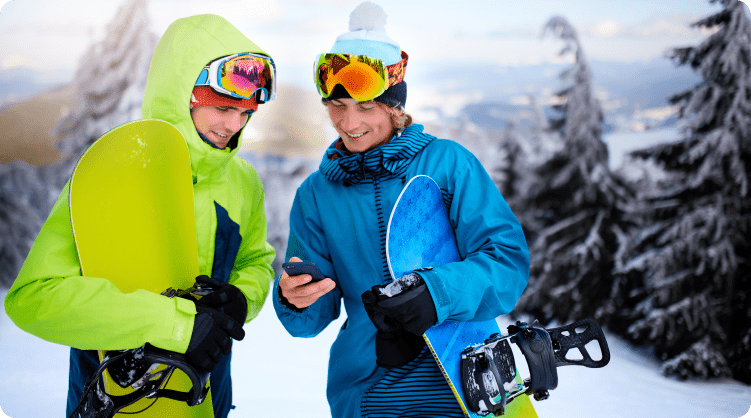 Being informed online and individually at all times, that's what your customers want. With interactive communication solutions, you can keep your customers up to date in real time about regional and national news, events and other location-based information – and we can support you in this.
Enkom – Your specialist for mobile solutions in communication and marketing
As an independent and experienced expert for modern infrastructure solutions, Enkom enables you to benefit from a wide range of communication options. We support you with our comprehensive know-how from consulting to implementation to operation and maintenance of the entire platform. According to your needs, we deliver, install and operate the appropriate WLAN, hardware and software components with the associated services. In addition in finding the best possible solution, taking into account the customer's wishes, our focus lies on the highest possible customer benefit in mobile marketing.  With Location Based Service, you can make targeted use of the advantages of an innovative marketing tool and continuously provide your customers with up-to-date and location-based information in real time.
Communication in a simple way – your advantages as an operator
Location-relevant real-time communication with clients and customers
Customer-specific advertising according to customer profiles such as gender, age and interests
Advertising platform for tenants and partners
Action and event promotion
E-commerce: direct link to the online shop
Crisis communication via emergency message
No app download required due to browser-based content
Automatic speech recognition for users
Data analysis and evaluation
Valuable marketing data such as email addresses or customer profiles
Survey options can be individually designed
Extensive statistics and information such as language, age, gender, unique users or returning visitors
Analysis of the flow of visitors and movements of your customers (heat maps)
User behaviour in relation to the use of the content management system such as landing page views, button views & clicks, banner views & clicks
Your customers benefit from this here and now
Fast and secure internet access
News and tips on what's on where – in real time
Navigation in the area or in buildings
Live entertainment such as: Upload selfies directly to the website
Integration of webcams: instant update to different locations
Quick access to social media such as Facebook or Twitter via landing page
Projects